PRIMROSE FLOWER (20 SEEDS) PRIMULA MEGAN PRIMROSE, Excellent Pot Plant
PRIMULA MEGAN  PRIMROSE FLOWER SEEDS   PERENNIAL, Great Pot Plant 20 Seeds !
Common Primrose (Primula Acaulis S1 Accord Scarlet) - Enjoy starting Primrose seeds for your containers and flower beds! Common Primroses, or also known as English Primroses, are found growing in flower borders, pots and window boxes all across the United States. They are extremely popular for their early spring color. Growing this little garden treasure from Primula Acaulis flower seed is not difficult, and it is very rewarding. This variety features brilliant scarlet red 1 1/2 inch blooms that are lightly scented. Grow Common Primroses on the north side of the house or in areas that are partially shaded by evergreens. This scarlet Primula Acaulis looks especially great planted under a border of rhododendrons, azaleas or camellias. A synonymous botanical name for English Primrose is Primula Vulgaris.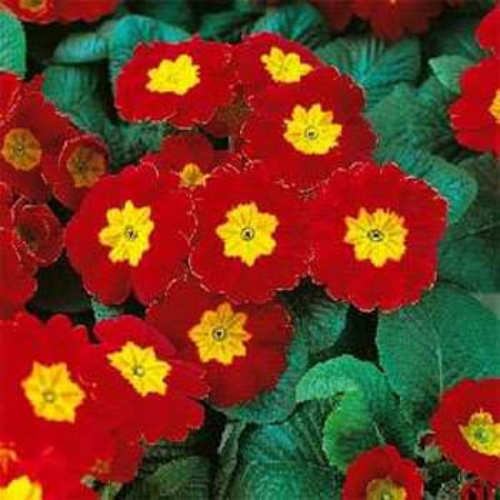 Sow Primrose seeds indoors in late fall or early winter. Use starter trays and a peaty starter mix. Press the Primula Acaulis seeds into the starter mix but do not cover the flower seeds. Light is beneficial for germination. After the Primrose seedlings get their second or third leaves they can be transplanted to a protected outdoor seedbed or individual pots. Plant English Primrose plants out in late winter or early spring. When planting Primroses into their permanent place, amend the garden soil with plenty of organic matter and use a slow release fertilizer. Space the Primrose plants 8 inches apart in a partially shaded setting. Primula Acaulis care includes keeping the Primrose plants well watered to help their bloom season last as long as possible.
Flower Specifications
Season: Perennial
USDA Zones: 4 - 7
Height: 5 - 8 inches
Bloom Season: Early spring
Bloom Color: red
Environment: Partial shade
Soil Type: Humus rich, pH 6.0 - 7.2
Deer Resistant: Yes
Planting Directions
Temperature: 60 - 65F
Average Germ Time: 21 - 30 days
Light Required: Yes
Depth: Do not cover the seed but press into the soil
Sowing Rate: 4 seeds per plant
Moisture: Keep the seeds moist until germination
Plant Spacing: 8 inches