ANEMONE PULSATILLA Seeds~Red Bell (Pasque Flowers) 50 seeds ,Perennial !
 Anemone Pasque Flowers Seeds-RED PULSATILLA -50 seeds Perennial !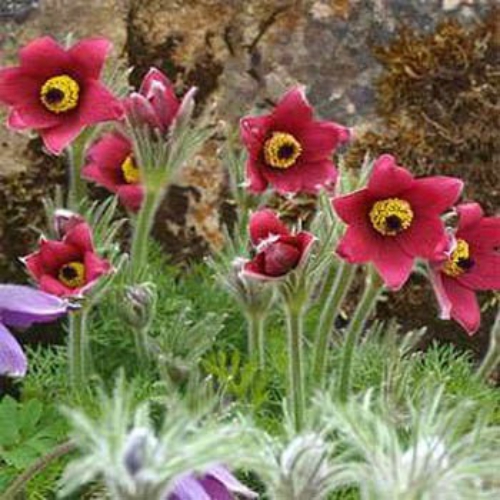 Pasque Flower (Anemone Pulsatilla Vulgaris Red) - Start Anemone Pulsatilla seeds to grow this favorite wildflower from the mountains of Europe. Pasque Flower is an early blooming flower, often poking up through late-winter snows to bloom. This red Pasque Flower has a deep red, bell-shaped bloom and gets a fluffy white, ornamental seed head on it. The foliage is attractive all summer long.
Pasque flower is a perennial, but it will also drop its flower seed and self-sow liberally. Pulsatilla Vulgaris will naturalize and gently spread in your garden when happy. It is a wonderful addition to other early bloomers such as tulips and daffodils. It is easily grown from Pasque Flower seeds in any moderately fertile, well-drained garden soils.
Flower Specifications
Season: Perennial
USDA Zones: 4 - 8
Height: 12 inches
Bloom Season: Spring and summer
Bloom Color: Violet
Environment: Full to partial sun
Soil Type: Well-drained, pH 6.0 - 7.2
Planting Directions
Temperature: 68F
Average Germ Time: 21 - 28 days
Light Required: Yes
Depth: Do not cover
Sowing Rate: 2 seeds per plant
Moisture: Keep moist until germination
Plant Spacing: 12 inches