Coral Bells Plant Seeds,Heuchera Palace Purple ,Perennial, Zone: 4-9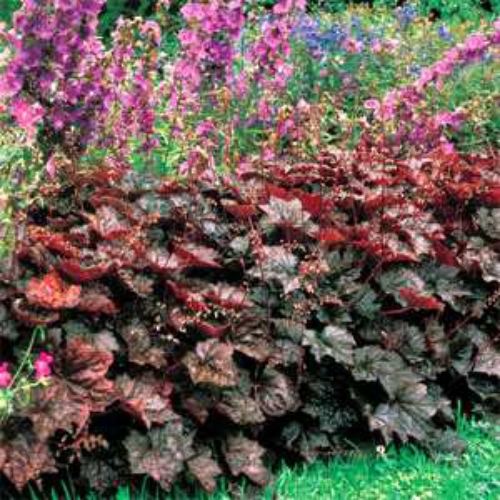 Heuchera (Heuchera Micrantha Palace Purple) - What an attractive look! This Heuchera Palace Purple, also known as Coral Bells Palace Purple, has beautiful mahogany foliage and white blooms. Grown from Coral Bells seeds, this is an extremely popular perennial garden flower. This Coral Bells Purple Palace sports very dark foliage of a gleaming mahogany-maroon, and it is offset by pure white flowers from late spring through late summer. The foliage makes an attractive addition to the sunny or partially shaded flower garden, growing in lush profusion on uniform, mounding plants. On dainty, tall flower stalks, the blooms appear in neat columns of little bells, 6 inches above the foliage. The foliage is semi-evergreen on this hardy perennial plant.
Many gardeners recommend that Heuchera seeds be stratified, which means that they must be refrigerated and put through a cold period lasting several weeks. Once the flower seed has been refrigerated for several weeks, it can be sown indoors 6 - 8 weeks before the last frost. Using quality starter mix and starter trays, sow Coral Bells seeds into cells, pressing the flower seed into the soil. Keep Heuchera seed moist. When temperature are consistently warm outdoors and danger of frost has passed, Heuchera seedlings can be hardened off and moved outdoors.
Flower Specifications
Season: Perennial
USDA Zones: 4 - 8
Height: 18 - 24 inches
Bloom Season: Spring and summer
Bloom Color: White
Foliage Color: Burgundy
Environment: Full sun to partial shade
Soil Type: Moist, well-drained, pH 5.5 - 6.8
Deer Resistant: Yes
Planting Directions
Temperature: 65 - 70F
Average Germ Time: 21 - 28 days
Light Required: Yes
Depth: Do not cover the seed but press into the soil
Sowing Rate: 7 - 8 seeds per plant
Moisture: Keep seed moist until germination
Plant Spacing: 12 - 15 inches