HEIRLOOM TOMATO "Mr. Stripey" (50 Seeds) Great For Sandwiches, salads,Slicing
Tomato Seeds - 

Mr. Stripey

 Heirloom Tomato-Great for Sandwiches, salads,grilling and more !- 50 Seeds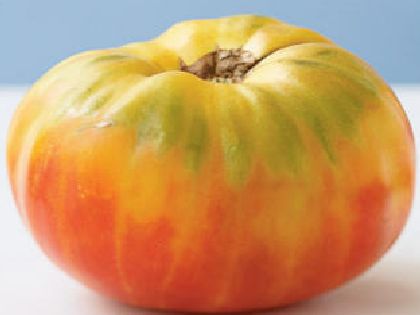 "Mr. Stripey" tomatoes (Lycopersicon esculentum "Mr. Stripey") are an heirloom variety of beefsteak tomato, which grows as an annual in U.S. Department of Agriculture plant hardiness zones 3 through 11. Without pruning, it reaches up to 10 feet tall with fruit maturing 55 to 85 days after planting. The fruit grows between 1/2 to 2 pounds. The ideal temperature for growing these red and yellow striped tomatoes is between 50 to 95 degrees Fahrenheit in full sun locations.
1
Locate "Mr. Stripey" tomato plants in full sun areas with at least six to eight hours of direct sunlight per day. Because of the large size of these plants, ideal spacing for this tomato variety is 36 to 48 inches apart. Air circulation around the branches of the plant dries the leaves quickly after rainfall, which keeps the plant healthy.
2
Bend a section of 6-foot-tall fencing into a cylinder 22 inches wide. Use heavy-duty wire fencing with a 4- to 6-inch-mesh. Cut the fencing with wire cutters, and fasten together with plastic twist ties. Place the cage over the tomato plant, and thread the branches through the wire mesh as the plant grows larger.
3-Spread 1 to 2 inches of organic mulch around the base of the tomato plants. Use straw, dried grass clippings or shredded leaves to prevent the quick evaporation of the soil moisture. Mulching also slows the growth of weeds around the tomato plants. Pull any weeds that survive the mulch by hand. Cultivating near the tomato plants can accidentally damage the stems and roots.
4
Water the soil around the tomato plants whenever no rainfall occurs for the week. Keep the soil moist. Letting the soil dry out and then flooding it with water causes fruit production problems in tomato plants. Keep the leaves dry and water in the morning to prevent most plant diseases from infecting the tomato plants.
5
Cut away suckers from the main branches of the plants with pruning shears, but keep most of the shading leaves intact to prevent sunscald of the fruit. Pinch off some of the flowers from large cluster of blossoms to allow the remaining flowers to set and grow large fruit.
6
Sprinkle 1/2 cup of 5-10-5 or tomato fertilizer around each of the tomato plants. Scratch the granules into the top inch of soil and water well. Feed the tomato plants when the first of the fruit is about 1 inch across and then again when harvest begins.
HARVESTING
Fruit that is fully ripened on the vine has a much fuller flavor than fruits that are picked early and then allowed to ripen. Many cherry tomatoes, however, have a tendency to crack if they stay on the plant, so they should be picked at the peak of redness, or even a tad before.
Watch the bottoms carefully; that's where tomatoes start to ripen. Some varieties, primarily large heirloom types, ripen before they reach full color. Pick tomatoes when the skin still looks smooth and waxy, even if the top hasn't turned its mature color (whether red, purple, pink or golden yellow).
Cut off the top of the plant, or remove all new flower clusters about a month before the first expected frost. That way, you'll direct the plant's energy into ripening existing tomatoes rather than producing new ones that won't have time to mature.
When daytime fall temperatures are consistently below 60 degrees Fahrenheit, fruit will no longer ripen on the vine, so it is time to bring all mature green fruits indoors, either on the vine or off.
SAVING SEEDS
Saving tomato seeds is a fairly simple process. Every tomato seed is covered in a gelatinous sack which contains chemicals that inhibit seed germination. This prevents the seeds from sprouting whilst inside the tomato fruit. In nature the fruit drops from the plant and slowly rots away on the ground. This is the natural fermentation process and it is during this that the gelatinous sacks are destroyed. To save tomato seeds yourself you need to duplicate the fermentation process. This will not only remove the gelatinous sack but also kills any seed borne tomato diseases.
Firstly cut the tomato fruits across the middle and then squeeze the tomato seeds and the gel into a container, making sure that you label the container with the tomato variety. The container of tomato seeds then needs to be put to one side to ferment for about three days. During this time the container of seeds will smell horrible and will go moldy. When the mold has covered the top of the container add water and stir the mixture. The good seeds will sink to the bottom of the container and the mold and hollow seeds can then be poured off. Add more water and continue the progress until only clean seeds remain. You can also put the mold and seeds into a sieve and wash under running water until just the clean seeds remain.
Next spread out the seeds on a glass or ceramic plate to dry, which can take about 12 days, making sure that you label the plate with the tomato variety. The dried seeds can then be put into a labelled envelope. Saved seeds should store for 5 - 10 years if kept in the right conditions
The dried seeds can then be put into a labelled envelope. Saved seeds should store for 5 - 10 years if kept in the right conditions.
PAYMENT
· we accept payments through PayPal only.
SHIPPING
Yes We Combine shipping
If you are purchasing multiple items and wish to take advantage of our combined shipping rates, place each item in your eBay shopping cart by completing the "Buy It Now">"Commit to Buy" purchase, but do not pay until you are finished shopping. 
If checkout makes a mistake figuring combined shipping, I will refund the amount.
· Most items will be shipped via USPS.
· We do offer any express or overnight shipping.
· Any questions regarding shipping or items, please feel free to contact us.
FOR INTERNATIONAL BUYERS
Here's is what to do to get combine shipping ,Go to the items your want to buy ,Click "buy-it-now" on each of them ,Next do not pay for them , go to your My EBay, Next go to your ,Bought History, and you'll see all the items you just click on, and at the top of them you will see " REQUEST TOTAL FROM SELLER" Click on that and We'll fix all your Combine shipping !

TRACKING
· Most Domestic (US) packages include Online Tracking Number.
· If the tracking information showing that your item has been delivered and you did not receive your order, please go to your local USPS (Post Office) and take your tracking # information with you.
Shipping to: United States, Canada, United Kingdom, Denmark, Romania, Slovakia, Bulgaria, Czech Republic, Finland, Hungary, Latvia, Lithuania, Malta, Estonia, Australia, Greece, Portugal, Cyprus, Slovenia, Japan, China, Sweden, Korea, South, Indonesia, Taiwan, South Africa, Thailand, Belgium, France, Hong Kong, Ireland, Netherlands, Poland, Spain, Italy, Germany, Austria, Israel, Mexico, New Zealand, and Singapore.
INTERNATIONAL
· International USPS First Class mail does not include online tracking.
· International PRIORITY and EXPRESS mail includes online tracking.
· Buyers are responsible for customs duties, taxes, and/or fees.
· Unclaimed packages do not qualify as a lost package.
· International shipping by USPS can take up to 30 days or longer. Please be patient.

RETURN POLICY
RETURN YOUR ORDER FOR A REFUND, We will process your refund when we receive your return.
· Original shipping fees & Handling charges are Non-Refundable.
· Unclaimed packages do not qualify as a lost package.
· International shipping by USPS can take up to 30 days or longer. Please be patient.
· Most items are returnable if they are returned in the condition in which they were received.
· All shipping costs will be the responsibility of the buyer.
· If an item was unintentionally misrepresented or a mistake was made on our part, we will make it right!
· Please contact us to arrange an exchange, return/refund.
Guaranteed
All seeds have been test sown to ensure germination. Please familiarize yourself with growing conditions and instructions for your seeds before you plant them, as all seeds are different. Basic growing instructions can be found under each listing.
We Cannot Guarantee how much you will be able to grow, as too many variables come into play when growing seeds, soil condition, your ability to garden, weather etc. I guarantee that they arrive as described and are in good viable condition and the germination rates are accurate.
 
FEEDBACK/QUESTION
· If you have any concerns or questions, please do not hesitate to contact us.
· Please read descriptions and/or questions prior to committing to your purchase.
· All messages will be responded within 1-2 business days.
· We would greatly appreciate if you would reciprocate upon receipt of your purchase.
· If there is a problem with your order, give us a chance to make it right before leaving negative feedback.
Thanks for Shopping with Us!