Morning Glory Seeds - Shiva (Ipomoea Purpurea Shiva) 10 Flowers Seeds~PERENNIAL
Morning Glory Seeds - Shiva-25 Seeds !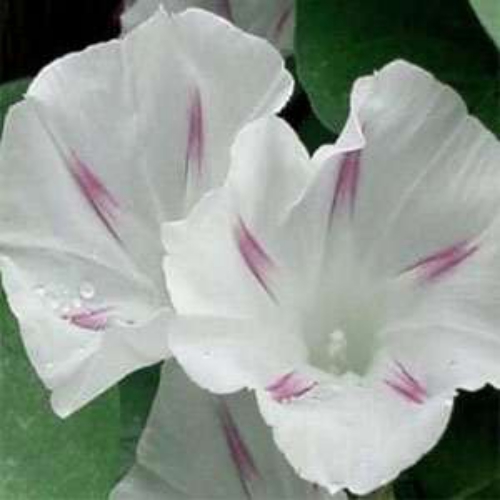 Morning Glory (Ipomoea Purpurea Shiva) - Many people consider Morning Glories to be one of the best flowers to adorn fences, trellis, arches, and walls. The vining Ipomoea Shiva easily establishes from flower seed and has gorgeous white trumpet-shaped flowers with a rose star. The Shiva Morning Glory flower typically opens in the morning time, and the delicate flower fades with the advancing sunlight. Growing Morning Glories from seed is very rewarding. Because Morning Glory seeds have a hard coat, nicking the seed coat with a knife tip or rubbing the seeds with a piece of sandpaper will improve germination. After nicking the flower seeds, place them in a bowl and soak overnight in warm water and sow the following day.
Flower Specifications
Season: Annual
USDA Zones: 3 - 10
Height: 120 inches
Bloom Season: Summer through fall
Bloom Color: White
Environment: Full sun to partial shade
Soil Type: Poor quality, pH 6.1 - 7.8
Planting Directions
Temperature: 70F
Average Germ Time: 7 - 21 days
Light Required: No
Depth: 1/4 inch
Sowing Rate: 6 - 8 seeds per foot
Moisture: Keep seed moist until germination
Plant Spacing: Thin to 12 inches