Petunia Seeds (Petunia nana compacta Purple) Wildflower (200 Seeds) Heirloom
Petunia Seeds Petunia (Purple)(200 Seeds) Excellent for Groundcover, baskets and containers.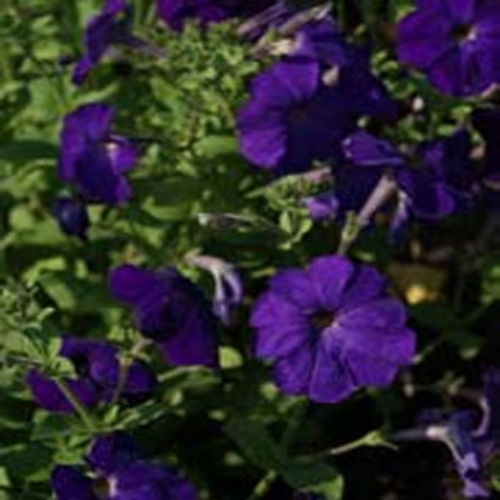 Petunia (Petunia Nana Compacta Alderman ) - Start Petunia seeds for a great, old-fashioned annual that performs all summer long. Petunia Alderman is one of the most colorful annuals for the summer garden. Dwarf Petunias are sturdy, compact and low-growing providing an abundance of dark violet flowers. Petunia Alderman is excellent for mass plantings in the garden, or even in pots or hanging baskets. Petunia flower care includes: deadheading faded flowers for best display and to keep it full of color all season long and fertilizing regularly with a balanced liquid fertilizer.
Sow Petunia seeds indoors 10 - 12 weeks before planting out. Petunia flower seeds are extremely tiny, so press them gently onto the soil surface without covering, and keep the soil wet for the best germination. Placing the trays or containers on top of the refrigerator is beneficial as the heat from the appliance keeps the flower seeds consistently warm. Five or six weeks after sowing the Petunia flower seeds, transplant seedlings into 3 inch pots, and grow on in cooler temperatures with plenty of light. Harden young plants for 10 - 14 days before planting outdoors after last frost date. Plant Petunias in full sun and well-drained soil. When planting outdoors, pinch the young Petunia seedlings back to encourage branching.
Flower Specifications
Season: Annual
USDA Zones: 3 - 8
Height: 12 inches
Bloom Season: Late spring through fall
Bloom Color: Purple
Environment: Full sun to partial shade
Soil Type: Well-drained, pH 5.6 - 6.6
Planting Directions
Temperature: 72 - 76F
Average Germ Time: 7 - 14 days
Light Required: Yes
Depth:

 Do not cover the seed but press into the soil

Sowing Rate: 2 - 3 seeds per plant
Moisture: Keep soil wet for best germination
Plant Spacing: 12 inches
On Feb-15-13 at 14:04:02 PST, seller added the following information:
FREE! Sellers: Add a FREE map to your listings. FREE!