Petunia Seeds - Wild Petunia - Great in hanging and planters. Perennial
Yes We Combine Shipping
Please place the items You Would like to buy in the eBay shopping cart; it will automatically combine shipping when checking out! FREE SHIPPING ON ORDERS OVER $50 (USA Only). If You are International buyer, Place each item in your eBay shopping cart until you are finished shopping Start the checkout process. Then Click "Request Total from Seller" before you pay. Please Pay for all items at once, Combine shipping discounts does not apply to item that has been purchased and paid separately.
PLEASE NOTE: All seeds have been test sown to ensure germination. Please familiarize yourself with growing conditions and instructions for your seeds before you plant them, as all seeds are different. Basic growing instructions can be found under each listing. We Cannot Guarantee how much  you will be able to grow, as too many variables come into play, soil condition, your ability to garden, weather etc. I guarantee that they arrive as described and are in good viable condition and the germination rates are accurate. Because we are not there to plant them, we cannot be responsible for germination failure due to improper planting or climate conditions. Please do your homework.
By placing an order, you are agreeing to sale under these terms.
Petunia Violacea Seeds - Wild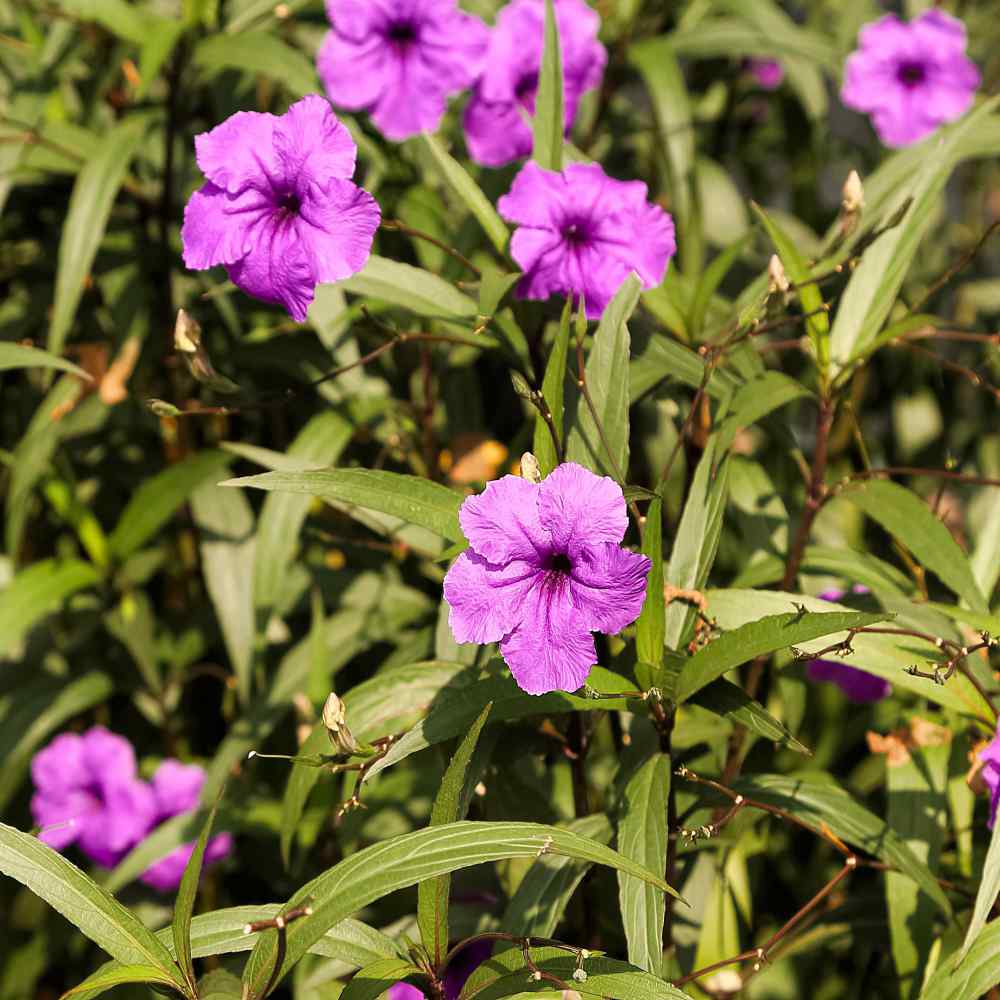 Petunia (Petunia Violacea Wild Petunia) - A native to South America, Petunia Violacea is one of the parents to all hybrid Petunia plants. Grown from Petunia seeds, this wild Petunia is a tender perennial. Wild Petunia is heat tolerant, taller than most hybrid varieties reaching 12 or more inches tall, and spreading up to 30 inches in diameter. It has a profusion of small violet flowers which are 1 - 2 inches across.
Wild Petunia plants prefer to grow in full sun to very light shade. Less than 7 hours of sun each day will produce spindly plants with few blooms. The violet wild Petunia plant is considered a perennial in frost free USDA zones 9 - 11. In zones that get frost and cold temperatures, treat wild Petunia as an annual. Wild Petunia does not have a rigid, upright habit but rather a relaxed and sprawling habit. Petunia flower seeds are great to plant in hanging baskets and planters.
Directly sow wild Petunia flower seeds outdoors into prepared soil after danger of frost has passed and soil temperatures have warmed. Soil temperatures below 68F will limit germination response.
Approximately 140,000 Petunia Violacea seeds per ounce.
Flower Specifications
Season: Perennial (Tender)
USDA Zones: 9 - 11
Height: 12 inches
Bloom Season: Summer
Bloom Color: Violet
Environment: Full sun to partial shade
Soil Type: Well-drained, fertile, pH 5.6 - 7.4
Planting Directions
Temperature: 68 - 80F
Average Germ Time: 15 - 30 days
Light Required: Yes
Depth:

 Surface sow

Sowing Rate: 1 ounce per 1,500 square feet
Moisture: Keep seeds moist until germination
Plant Spacing: 12 inches