Sweet Clover,Honey,Wildlife Food Plots,Pastures,Hay Green Manure And Covercrops!
| | | |
| --- | --- | --- |
| Please Click "Select" Above |   | |
| Approximately 13,000+Seeds Per Oz | | |
Yellow Sweet Blossom Clover Seed

 (OG)
A tremendous green manure and honey plant.
 Coated with an inoculant for better establishment,Pre-inoculated with OMRI listed Nitragin Gold. Organically grown. Avg. 209,000 seeds/lb.
Yellow Sweet Blossom Clover Seed - (Melilotus Officinalis) - Yellow Sweet Clover is commonly used for bees in honey production, cover crops, wildlife food plots, pastures, hay and green manure or soil building.  This clover variety is known to attract honey bees and beneficial predatory wasps.  Yellow Sweet clover plants grow as tall as 4 feet and is considered a biennial clover seed.  Yellow Sweet Clover can fix or add as much as 100 units of Nitrogen per acre as well as 2500 to 3500 lbs of dry matter making this clover seed variety very appealing to Organic farmers.  
Soil Adaption: Yellow Sweet Blossom Clover performs best in higher calcium soils with a pH of 6.5 or higher.  This clover variety tolerates poorly drained and flooded soils.  Yellow Sweet Clover is also drought tolerant as well as winter hardy.  To conclude, Yellow Sweet Blossom Clover is a great choice for soil building, organic green manure, honey production and erosion control in poorly drained soils.
Yellow Sweet Blossom Clover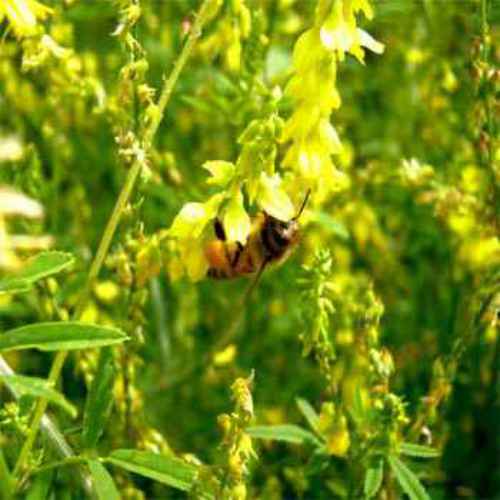 Yellow Sweet Clover (Melilotus Officinalis) - Biennial sweet clover thrives under a wide range of soil and climatic conditions. However, it will not tolerate acid soils. It is drought resistant, winter-hardy and productive throughout all 50 states. Sweet clover is native to Europe and Asia, but is found now all across the U.S. Sweet clover seeds were used 100 years ago as a forage crop and soil builder. Today it is also used as a wildlife cover crop and in production of honey.
Sweet clover seeds are quite alkali tolerant and even likes limestone soils. Because of its deep, heavy taproot and dense root system it opens subsoil and increase aeration, making it a valuable conservation tool. Root break down rapidly at maturity, adding organic matter to the soil. Sweet clover can be used for hay, silage, green manure or pasture. It is also one of the most valuable plants for honey production, often used solely for bee pasture. Buy these bulk clover seeds today!
Inoculated Seed - We now offer yellow sweet clover seed that has been coated with an inoculant for better establishment. NITRO-COAT rhizobium strains are specifically chosen for each seed type. A key to any successful establishment and early seed development is moisture. NITRO-COAT is naturally water absorbent and helps attract soil moisture to the seed, getting your stand established quickly. This coating process which Outsidepride utilizes, assures that only the top-performing and crop-specific rhizobia will be applied to ensure your clovers reach maximum nodulation, stand establishment, and yield potential. The weight of the clover seeds will contain approximately 34% coating material that contains the inoculant and water holding material for better establishment and viability of the seed. There is no difference in the seeding rates between the coated and raw seed due to the increased germination and viability of the bulk clover seeds that are coated and inoculated.
Seeding rate 12 to 15 lbs/acre.
Clover Specifications
Latin Name: Melilotus Officinalis
Season: Biennial
USDA Zones: 4 - 10
Environment: Full sun
Height: 48 inches
Bloom Color: Yellow